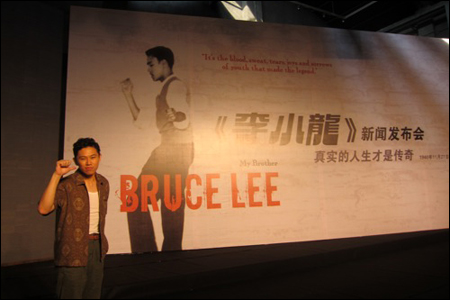 Last week, to commemorate the anniversary of Bruce Lee's passing, Jin posted the news that he'll be appearing in an upcoming movie based on the teenage years of the legend himself:
Be water my friend
. No, he's not playing Bruce. He'll be playing the role of Bruce's childhood friend:
Filming started about a week ago. "Teenage Bruce Lee" (not the official name of the movie by the way! just what I'm calling it for now :D ..) is scheduled to hit Hong Kong theaters Nov. 2010, right in time for Bruce's 70th birthday.

I will DEFINITELY keep you all updated on developments throughout the next few months.

The world may have caught on to Bruce Lee thru his incredible one of a kind martial arts techniques that he showcased in now classic films, but I think what truly makes him a remarkable man was his way of thinking. This was an intelligent fellow.
As a Bruce fan (come on -- who isn't?) I'm already really excited about this movie. All these years later, people still can't get enough of the man, the myth and the legend. Looking forward to seeing Jin do his thing in this project. (Thanks, Ricky.)
UPDATE: Here's a press release about Jin's involvement as Seew Kay Lun in
Bruce Lee, My Brother
:
Jin the MC will be part of the main cast for the upcoming Bruce Lee movie titled "Bruce Lee, My Brother," which will be released this November to coincide with Lee's 70th birthday.  Jin will be playing Lee's childhood friend Seew Kay Lun in the upcoming movie.

 "Bruce Lee, My Brother," will cover Lee's teenager years in Hong Kong as a Kung Fu trainee and actor, up to his departure to the U.S. in 1959 at the age of 18.

"The movie tells the story mainly of his teenage years and how his relationship with his family and friends shaped him into the man the world would later know as Bruce Lee, the superstar," said Jin on his blog (www.ayojin.com) last Tuesday.

The film is co-produced by Hong Kong Media Asia and Chinese partners, who also produced other hit movies like "Infernal Affairs," which was later remade in the U.S. into the Academy Award winning movie "The Departed."

Having been part of other projects like "2 Fast 2 Furious," Jin expressed great "honor" and "excitement" at being part of the main cast for the much-anticipated film.

"I'm still kind of coming to terms with the fact that this is all happening and I get to be a part of such an incredible project," said Jin.
Playing the role of Bruce Lee will be rising star Aarif Lee, whose recent success with the film "Echoes of the Rainbow" earned both him and the film four awards at the Hong Kong Film Awards in April.

"Bruce Lee, My Brother" has a tentative November release date in Hong Kong, mainland China and other Asian markets; its release in the U.S. is still unknown.
Sounds cool! Looking forward to eventually checking this out.