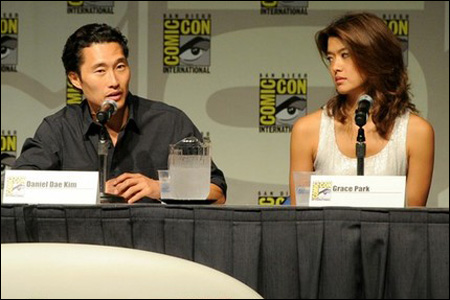 Among the many movies and TV shows that came to San Diego to woo the fanboys and fangirls of Comic-Con, the new CBS reboot of
Hawaii Five-0
at least boasts a couple of built-in fan favorites in the cast: Daniel Dae Kim of
Lost
and Grace Park of
Battlestar Galactica
.
Here's a brief TV Squad recap of what went down at the
H50
panel:
'Hawaii Five-0' Cast at Comic-Con: Everyone From 'Lost,' Come on Down
.
But he and fellow executive producers Alex Kurtzman and Peter Lenkov aren't relying on just name-brand casting to launch the reboot of 'Hawaii Five-0.' They promised plenty of character arcs in addition to weekly cases, as well as following the ongoing storyilne of Steve McGarrett (Alex O'Loughlin) solving his father's murder.

The producers also acknowledged a responsibility to fans of the original. That includes a careful reworking of the iconic theme song. "There was some discussion early on of having an incredibly talented rock star to come in and do a guitar version of it," Kurtzman noted. "We attempted it and we couldn't have been more wrong! So we found the original musicians, brought them back to the studio and did the theme exactly as it was."

Not everything is as it was in the original, however. Star Grace Park will be playing Det. Kono -- a role that was originally male.
"Times have changed," said Park, who is well-used to turning a role female since she did the same on 'Battlestar Galactica' as Lt. Boomer. When asked if she'll be the bikini will be her main uniform. Park slyly answered, "I want to see the guys in bikinis." Producers also promised episodes focusing on Chin Ho and Kano.
We previously heard a
synth-heavy new revamped version
of the show's iconic theme song. Glad to hear they ultimately decided not to mess with the original theme:
CBS Will Make Sure You Hum the Hawaii 5-0 Theme Song Whether You Want To or Not
. I'm also pleased to hear there will be episodes focusing on Chin Ho and Kano. The more the better!