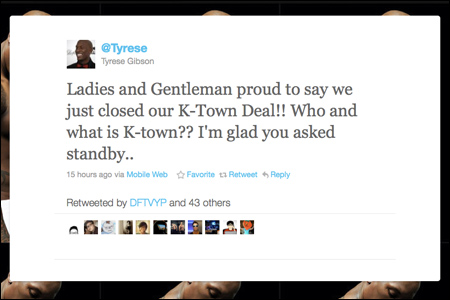 It's official. Sort of. Well, it's on Twitter, which is basically counting for official these days... The K-town reality show (aka "the Asian American
Jersey Shore
") is indeed happening. The deal has been sealed, and the show has apparently been sold to an actual network. How do I know this? Why,
Tyrese told me
.
Producer Tyrese Gibson, as well as cast members like
Scarlet Chan
and
Joe Cha
, announced via Twitter that they had just closed the
K-town
deal. Details are still forthcoming, but it's happening. I bet we'll start seeing the televised drunken debauchery, K-town style, early to middle of next year. Stay tuned!