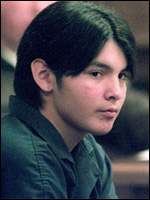 Last week, the Wisconsin Supreme Court upheld the prison sentence for convicted killer Omer Ninham, who at age 14 was sentenced to life-without-parole after he chased down, beat and then tossed a teenager to his death off a hospital parking ramp:
Life sentence for 14-year-old killer confirmed by court
.
Omer Ninham, perhaps a little tired of prison, argued that his 1998 sentence for killing 13-year-old Zong Vang violated U.S. and Wisconsin constitutional prohibitions on cruel and unusual punishment. He called the sentence "unduly harsh and excessive" and sought the possibility of parole. This guy wants to talk about what's harsh and excessive?
Ninham and four other teens accosted Vang near dusk in September 1998 while he toted a bag of tomatoes home from a grocery store in Green Bay, the opinion states. They taunted Vang, snatching his bicycle and threw the bag to the ground.

Ninham punched Vang and the group chased him to the top of a five-story hospital parking ramp nearby where he was punched, pinned to a wall and then Ninham and another teen, Richard Crapeau, swung Vang back-and-forth over the ramp's wall before letting go.

Vang landed on his head and trunk on the paved exit lane below and could not be revived.
Under Wisconsin law, anyone 10 or older accused of homicide can be tried in the adult system. A jury convicted Ninham of first-degree intentional homicide and child abuse in 2000. Considering the manner in which he took Vang's life, you can't tell me his sentence was harsh or excessive. Don't even bother trying. You will continue to rot in jail, young Omer. More here:
US court approves life without parole for 14-year-old
.