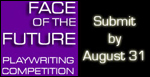 Calling all playwrights. East West Players, the nation's largest producing organization of Asian American artistic work and the longest-running professional theatre of color in the country, announces its playwriting competition
Face of the Future
.
Cast prizes will be awarded to the top three plays, including $5,000 for the first place winner, $2,500 for second place, and $1,000 for third place. All winners will be considered for workshop and/or production at East West Players.
This year, the focus is on the exploration of the reality of multicultural America from an Asian American perspective. For instance, subject matter might include, but not limited to, biracial or multiracial identity, clashes or collaborations between cultures, or international/transnational storylines.
Submissions will be accepted through August 31. Notification of winners will take place in February 2012. Submissions must be original, unproduced full-length plays or musicals. Translations or adaptations will not be accepted. Submissions must have Asian Pacific American themes and/or characters as the primary focus.
All genres are welcome, and comedies are encouraged. Plays should require no more than 5-7 actors. Musicals should require no more than 10-12 actors. The story should be told in less than 2.5 hours (including a 15-minute intermission) and must be accessible to a primarily English-speaking audience. East West Players must have the first option to produce.
For further information about the Face of the Future playwriting competition, and to download the entry form, go to the East West Players website
here
.