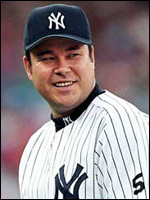 Damn. Former New York Yankees pitcher Hideki Irabu was found dead yesterday at his home in Rancho Palos Verdes, California. Police are investigating his death as a sucide. He was 42:
Hideki Irabu found dead in California
.
The Los Angeles County Coroner's didn't release too many details, other than that Ibaru was "found dead by an apparent suicide." Ibaru, a former pitching star in Japan before struggling through a short, turbulent career in the Major Leagues, had had a couple of run-ins with the law over the last few years:
In May 2010, Irabu was arrested on suspicion of driving under the influence of alcohol in the Los Angeles suburb of Gardena. Police said he was stopped after his car drifted outside of traffic lanes and he nearly collided with a parked car. He posted $5,000 bail but it was not immediately clear whether he was criminally charged.

He was also arrested in Japan in 2008 on suspicion of physical assault after a run-in with a bartender.

Irabu played three seasons with the Yankees, two with the Montreal Expos and ended his major league career in 2002 with the Texas Rangers. He finished with a career 34-35 record and 5.15 ERA.
Irabu came to the Yankees amidst quite a bit of fanfare, but never quite lived up to the hype. It's a tragedy to hear his life ended like this:
Former Yankees pitcher Hideki Irabu found dead in Rancho Palos Verdes
. And here:
Former New York Yankee pitcher Hideki Irabu found dead: A fan's reaction
.