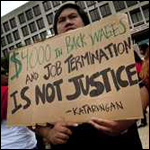 Passing along word about a petition and action that could use your support, involving migrant teachers in the D.C. area... In Maryland, Prince George's County Public Schools were determined to be a "willfull violator" of labor laws because they let 1,000 international teachers -- the majority of whom come from the Philippines -- shoulder fees that should have been the schools'.
The Department of Labor penalized them by demanding they pay these teachers back. However, they were also debarred from hiring foreign teachers for the next two years. Now many of the teachers are at a risk of deportation because Prince George's County Public Schools refuse to renew their visas and process their green cards due to the settlement with the Department of Labor.
An
online petition
has been launched in support of the Prince George's County Public School Systems' migrant teachers. The final decision could come anytime in the next week, so there is an immediate need to put pressure on the Department of Labor. Organizers are hoping to get 5000 signatures by August 5. Here's some more information about the petition:
Tell DOL their protection of PGC Public School System Teachers gets a failing grade!

The recent settlement reached by the Department of Labor (DOL) and Prince George's County Public Schools (PGCPS) over PGCPS's violations of the H1B temporary foreign worker program is twice victimizing the teachers whose wages were illegally reduced.

Tell the DOL that these teachers should not be punished with job loss and deportation because of their employer's willful failure to comply with the law.

Stand with these teachers whose actions helped safeguard American workers' wages!
This weekend in Washington D.C., the Asian Pacific American Labor Alliance will be joining the Filipino teachers of Prince George's County at a national action, to bring attention and stand with them in their struggle. It's happening Saturday, July 31 at the White House Ellipse. Here's some more information:
SOS One Million March & National Call to Action (Save Our Schools!)
Saturday, July 30 from 12PM-3:00pm

The rally will officially begin at noon at the Ellipse, but arrive early to enjoy performances, art, and more! At noon, Diane Ravitch, Jonathan Kozol, José Vilson, Deborah Meier, Monty Neill, Angela Valenzuela, and other speakers, musicians, performance poets, and more will encourage, educate, and support this movement and the Save Our Schools March demands. At two p.m., we will march to the Department of Education, where the demands will be read, we'll chant, and engage in a call for continued action to reclaim schools as places of learning, joy, and democracy. APALA has formally endorsed this march and rally in support of the teachers. PGCPS teachers will be coming out as well, and it's important for the Filipino community to come out in support of these educators that are so close to be deported back to the Philippines.
For further information about the plight of Filipino educators in Prince George's County, and to sign the petition, go
here
. And for more information about Saturday's action gathering, go to the Facebook event page
here
.