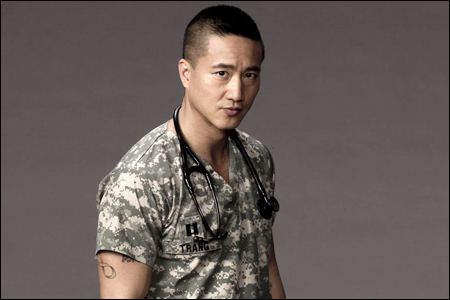 Have you been watching ABC's
Combat Hospital
? The medical drama goes into the lives of a military hospital's resident doctors and nurses and the craziness of working in the war zone of Southern Afghanistan. Think
Grey's Anatomy
with bullets and shrapnel... without so much of the
Grey's Anatomy
-ness. You know what I'm talking about.
I haven't had a chance to watch a full episode, but the show's cast includes actor Terry Chen as Captain
Bobby Trang
, who is thrown into the deep end as a Trauma Team Leader upon his arrival to the unit. Here's his character bio from the ABC website:
Captain Bobby Trang, of the US Army, is a General Practice Doctor and Trauma Team Leader at the Role 3. Thrown in the deep end as a new recruit along with Major Rebecca Gordon, Bobby is a little less confident in his own abilities, which just might be his saving grace. Amongst all the headstrong personalities, Bobby is a gentle soul. He arrived on the base the same day as Rebecca and they soon become best friends and confidants.
Hailing from Canada, we've been seeing Terry Chen in various movie and TV roles for years, in everything from
Almost Famous
(as Ben Fong-Torres!) to
Snakes on a Plane
. Great to see him on a major network show.
And heck, great to see Asian faces in this kind of medical drama, given that several real-life high-profile Asian American battlefield doctors have been
in the news
lately
.