15 Days. 15 APA Women. 15th Anniversary.
To celebrate the fifteenth anniversary of the
National Asian Pacific American Women's Forum
, we're partnering up with NAPAWF and
Hyphen
to spotlight 15 Women Warriors for 15 days, sponsored by 15 hosts. Meet today's spotlight: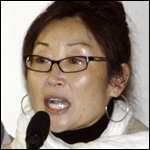 Isabel Kang
Nominated by Terry Park
Describe your name.
Isabel, because my mother chose it for me, and she is Catholic, and I'm bi-cultural Korean-Brazilian, and I love my Korean name, but it is only for my family use, and was carefully chosen by my father, reflecting the characters for East, and Hope.
How do you identify?
A radical activist, person of color, immigrant, working class allegiance, mother, WOMAN!
Your passion issues?
All of it! I cannot stand for any inequality, but my analysis has the woman of color in the center for my framework of reference. Everyday, ordinary women show me lessons of humility, struggle, courage, and resilience! Everyday, ordinary people in the world resist, and they are my inspiration.
Best advice someone has ever given you?
Treat others the way you would like to be treated.
Who's your hero?
The women in my family (grandmother, aunties, my mother) whom I owe my survival, and unconditional love, and, of course, Yuri, right here in the Bay area, she's such a trooper, and inspiration!
Biggest lesson you've learned as an APA Woman?
Nice quiet women do not make history! We have so much to say, and we have so much to share, our common struggles for liberation is our common denominator!
What advice would you give to other Asian Pacific American women?
I don't give advice! But honor our histories, our courage, our voices, and collective wisdom.
Why support NAPAWF?
NAPAWF's mission statement is aligned with my own life mission.
Favorite guilty pleasure?
I love to lay in the sun! Sand and salty water is my thing!
Terry says:
Isabel Kang is a fierce APA woman leader through her work as the director of Shimtuh, a domestic violence and sexual assault program based at the Korean Community Center of the East Bay (KCCEB), a multi-service organization located in Oakland. For over ten years, Isabel has counseled thousands of survivors from all over the U.S. on Shimtuh's helpline, met with women to talk about the options available to them, and served as a liaison in a criminal justice system that often fails to provide adequate interpretation services for non-English speaking immigrant women. Additionally, Isabel tries to help women within a Korean cultural framework, rather than necessarily going after perpetrators in court. Articulate, tireless, and passionate, Isabel redefines what it means to be an APA woman leader by helping countless women discover the warrior within themselves.
About Terry Park:
"I'm a Utah-raised Korean American artist, activist, and doctoral candidate in the Cultural Studies Graduate Group at UC Davis. I've taught Asian American Studies courses at UC Davis, Hunter College, and San Quentin Prison. My off-Broadway solo show, 38th Parallels, premiered in New York City with the Pan Asian Repertory Theater. I serve on the advisory board of EarSay, a Queens-based nonprofit arts organization that highlights the stories of immigrants and new refugees. In the Bay Area, I'm a proud CAAMbassador for the Center for Asian American Media, and I'm currently a Mr. Hyphen finalist, representing Asian Prisoners Support Committee."
Donate in honor of Team Isabel and Terry:
Click
here
to donate for Team Isabel Kang + Terry Park
* Be sure to note Isabel Kang in the "In honor of..." part of the donation form
To see the rest of the 15 APA Women Leader Spotlights, go
here
.