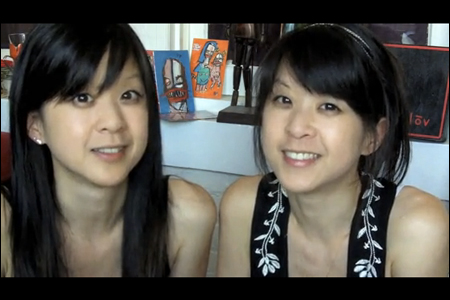 Exit Clov
is a NY/DC-based indie rock band fronted by twin sisters Emily and Susan Hsu. They describe their sound as "kaleidoscopic pop noir." I don't exactly know what that means, but I do like it. Their music is pretty darn great, and they're recording a new album. Here's a
video
of Emily and Susan explaining a little something about the upcoming record:
Now, I was putting together a post encouraging you to help raise some funds for their new record, when I checked their
Kickstarter
to discover that they had already met their $3,000 goal. In just five days, apparently. So I don't know what to say. Still, there's nothing stopping you from kicking in a couple of bucks, and it's not like they couldn't put that money to good use too:
Getting back to Kickstarter... seeing as we still have 30 days to go before our fundraiser closes, we're going to step up the challenge and double our goal to $6,000! This would enable us to press our CDs AND shoot a brand new music video to go with the record :)

And "What song will we feature in the new video" you ask? We're going to leave that up to you! After the album is released, all of our backers (as Dec. 20) will vote for which song off the album will be the feature of our music video ;-)
So that's a new goal of $6,000. For further information about the upcoming album, and to make a pledge on Kickstarter
here
. And for more information on Exit Clov and their music, check out the band's website
here
and their Facebook page
here
.