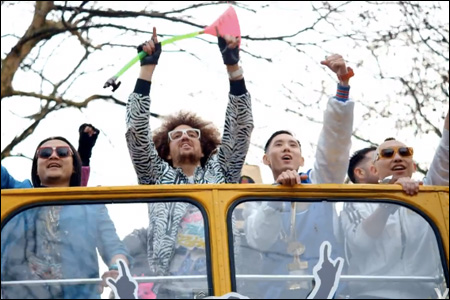 It's time to hop on the party bus with our globe-hopping friends in Far East Movement, who just want to show you a good time. Here's the official music video for
"Live My Life (Party Rock Remix),"
featuring Justin Bieber, Redfoo, that gold cardboard robot guy, and Quest Crew. Sorry, JB fans -- the Bieber doesn't actually show up anywhere in the video. But it's still fun:
I don't think I've ever seen the guys in FM dance before. Good times! Here's a FUSE TV interview the guys did explaining how the video came together:
INTERVIEW W/ FAR EAST MOVEMENT ON HOW "LIVE MY LIFE" MUSIC VID HAPPENED
.
Like the track? Download it from
iTunes
or
Amazon
. For further information on Far East Movement and their music, go to the FM website
here
.