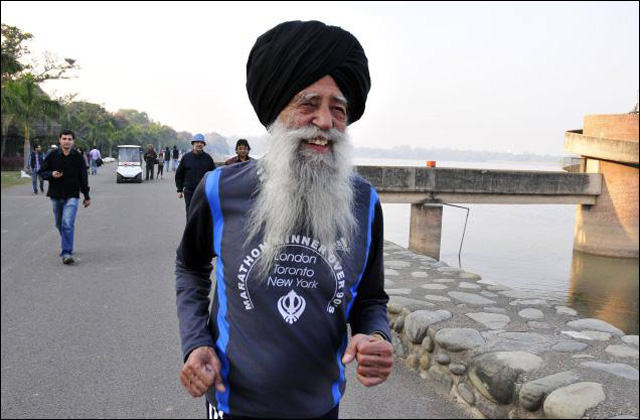 I've written about marathon runner Fauja Singh before, back when he was younger... when he was
100 years old
. Now at age 101, having competed in marathons around the world -- he started running when he was 89 -- he's retiring:
Fauja Singh finally says full stop at 101
.
Singh says he'll be hanging up his running shoes at the end of the month, after running his final marathon in Hong Kong -- but not before running a "mini marathon" to raise social awareness for the rights and security of women in India:
Fauja Singh runs for women's rights and security
.
Fauja Singh, who says he's "older than 101," will be hanging up his sneakers later this month, but he wouldn't do so before raising awareness for the rights and security of women, the Hindu reported. The seasoned racer, also fondly known as "Turbaned Tornado," partook in the "Mini Marathon" in January organized by Punjanbi paper the Rozana Spokesman.

"I am pained to listen that my daughters, grand daughters and great grand daughters are no longer safe," Singh, a follower of Sikhism, said at the event, according to the Hindu.

The awareness event coincided with protests that have swept across the country in the wake of the devastating rape that led to the death of a young Indian woman in December. While some protesters are calling for the death penalty for the six men accused in the fatal gang rape, the "Mini Marathon" led by Singh focused on bringing in "non-controversial icons" to open up the conversation to social change, according to the Hindu.

More here:
Fauja Singh, World's Oldest Runner At 101, Races For Women's Rights
.
They call him the "Turbaned Tornado." And he's more badass than I'll ever be. Even after running his last marathon, Singh says he plans to continue to run at least four hours a day to serve as an example for others. Keep on running and inspiring, sir.