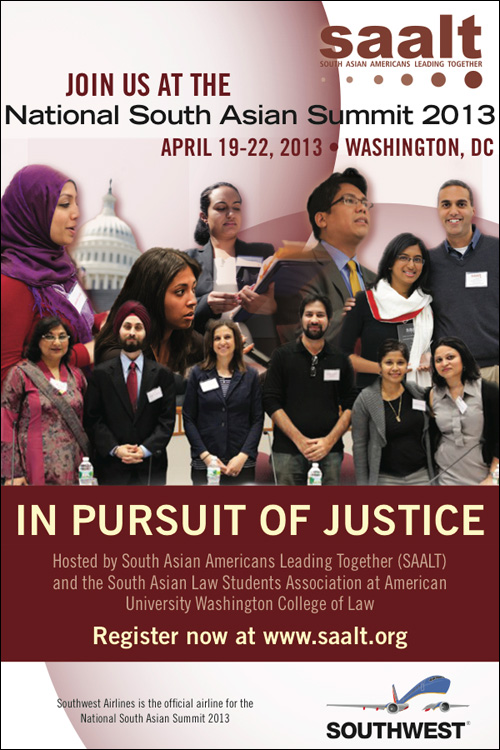 SAALT's
National South Asian Summit is taking place April 19-23 in Washington, D.C. Learn about issues affecting South Asians in the U.S., build leadership and organizing skills, connect with government officials, and strategize together. Here's what's in store:
National South Asian Summit

April 19, 2013
Changemakers Reception
6:30-9:00PM

The Changemakers Award recognizes individuals, programs, and organizations that have made a significant impact on social justice in the South Asian community in the U.S. Nominations are open.

April 20-21, 2013
Summit
8:00AM-6:00PM (Saturday)
8:00AM-2:00PM (Sunday)
American University Washington College of Law

Summit 2013 offers sessions, panels, workshops, seminars, and other opportunities to learn about issues affecting South Asians in the U.S.; develop tools and strategies for social change; evolve leadership skill sets; explore organizational capacity building issues and solutions; and hone advocacy skills.

Aprill 22
Advocacy Day on Capitol Hill
8:00AM-3:30PM
U.S. Capitol Visitiors Center

Attend an issue briefing at the Capitol and hear community voices share expreiences and calls to action around topics like immigration, hate crimes, racial profiling, and bias-based bullying. Delegations will then meet with Congressional offices to advocate around an issue.

Early bird registration ends on March 1st. Register
here
.