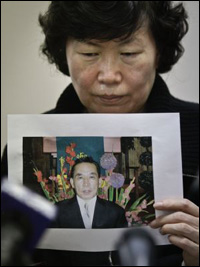 In New York, the family of the man who was killed when he was pushed onto the subway tracks in front of an oncoming train is suing the transit authority for negligence:
Family of Queens man Ki Suck Han, killed after he was pushed on subway tracks, sues the Transit Authority for negligence
.
58-year-old Ki-Suck Han was
pushed onto the tracks
and struck by a midtown train at the 49th Street station last December. 30-year-old street vendor Naeem Davis, who was
arrested and charged
with the murder, claimed that "voices in his head" made him shove Han to his death.
In a lawsuit filed Friday, Han's family accuses Metropolitan Transit Authority of negligence, claiming the Q train failed "to make timely and adequate use of the brakes":
Ki Suck Han was crushed in December when the motorman at the controls of the Q train pulling into the 49th St. station failed "to make timely and adequate use of the brakes," the suit charges.

And Han's last moments were horrific as the train bore down on him.

Han "suffered from fear of impending death" before he died, the suit filed in Manhattan Supreme Court states.

TA personnel also failed "to respond in a timely manner" after Han was run over.

"Ki Suck Han sustained severe injuries including but not limited to blunt impact to the head and crush injuries of the head and torso resulting in death," the suit states.

Han's fatal injuries "were due solely to the negligence and carelessness" of the TA, the suit charges.

The dead man's daughter, Ashley Han, who is executor of Han's estate, is seeking to be reimbursed for the funeral costs — and an unspecified damages.

The whole thing is still horrific. But I hope this somehow helps bring Han's family some small bit of peace. Meanwhile, Davis has been charged in Han's death and is being held without bail. More here:
Family Of Subway Push Victim Sues MTA For Negligence
.