Joint statement addresses "culturally offensive actions" at AP World History Reading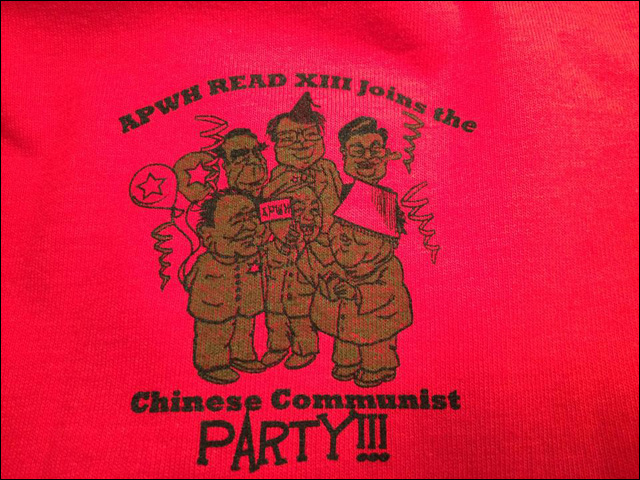 So you may have heard about some of that
racist bullsh*t
that went down at the Educational Testing Service's annual AP World History Reading earlier this month in Salt Lake City. Some participants reported that, among other culturally insensitive behaviors, organizers printed up t-shirt designs featuring racist caricatures "inspired" by one of the exam questions. You can see images of the shirt
here
.
ETS and the College Board has issued a
statement
denouncing "culturally offensive actions" at the reading, apologizing for the distribution of the shirts and calling on ETS to discipline the individuals responsible:
Statement

Educational Testing Service (ETS) and the College Board have learned of culturally offensive actions during the AP® World History Reading in June 2014. We are outraged by these intolerable findings and are dedicated to preventing any such activities in the future.

As an annual tradition, teachers and professors who attend the AP Reading make independent decisions to create and sell themed T-shirts to their peers. Neither ETS nor the College Board has any involvement in the creation, distribution, or sale of these T-shirts. This year, the T-shirt and some comments made at the AP World History Reading were both culturally and racially insensitive. College Board officials were notified of these incidents after the AP World History Reading was over and the teachers had dispersed.

It is unacceptable that one of the AP Exam Readers created a T-shirt that mocked historical events that were the cause of great pain and suffering, and promulgated racist stereotypes that further marginalize a racial minority. Furthermore, it is entirely inappropriate that references to the AP Program were combined with language and images that make light of a deeply tumultuous period in Chinese history. When some teachers expressed their concerns, others hastily dismissed such perspectives, and proceeded to distribute the T-shirts regardless. All of this was a clear violation of the high standards for respect and dignity that we require and expect at the AP Reading, and ETS and the College Board are deeply apologetic for the distribution of the T-shirt and for the toxic environment it created.

As a result of these findings and the unquestionably poor judgment they reveal, the College Board has asked ETS to discipline any responsible individuals. In addition, we will convene opportunities for the AP World History community to reflect on these circumstances and reestablish the collegiality the AP community expects and deserves.

When something like this transpires, whether it's a t-shirt or a racist frat party -- and I've seen a lot of them over the years -- I'm always a little amazed that no one, at any point during the planning process, raised concerns that it might be a bad idea. But in this case, some teachers actually did express concerns about the shirts prior to their distribution. But organizers went ahead with this shit anyway. You cannot claim ignorance.
Bravo, educators.