German firefighters were called to rescue an American student from a six-foot vagina sculpture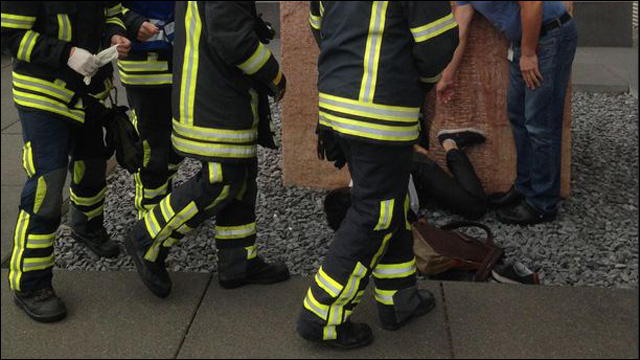 So... this happened. Last week in Germany, more than twenty rescue workers were called to rescue an American exchange student who had gotten himself stuck in a bit of a tight spot. Ahem.
American Student Ends Up Trapped in Giant Vagina Sculpture
It seems that the student, in an apparent attempt to get creative with his photo-taking, got himself trapped inside a
giant vagina sculpture
. Can you imagine having to make that 911 call?
The young stuck American is only being identified as an "exchange student." Given the nature of his emergency, I can understand the desire to remain anonymous. That said, here's the guy in his gloriously ridiculous state of stuck-ness: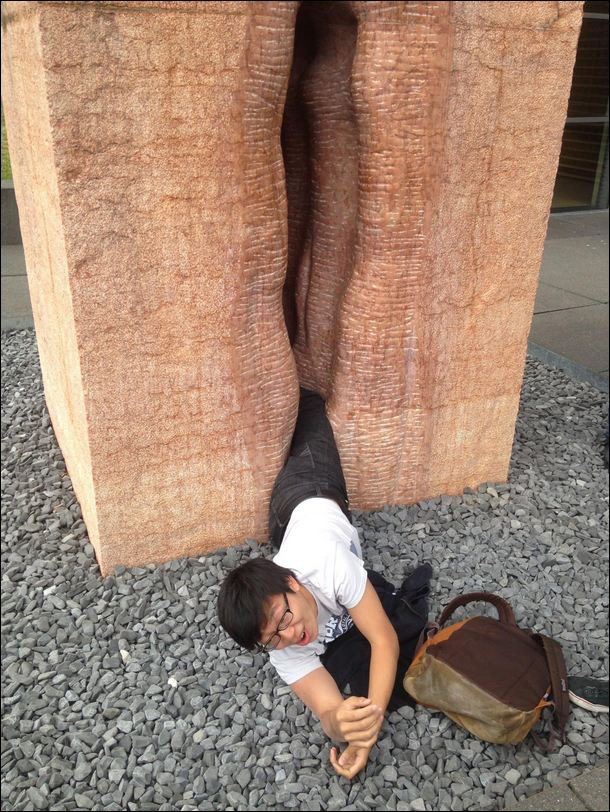 No less than 22 firefighters in the southern German town of Tübingen were called to the site of the sculpture,
Chacán-Pi
(Making Love) by Peruvian artist Fernando de la Jara, which is indeed a giant stone vagina. They managed to get the poor guy loose by just pulling really hard. No special equipment needed.
A total of 22 rescue workers with special equipment were deployed to the scene in the southern Germany city of Tuebingen on Friday to free the 20-year-old but a "forceps delivery was not necessary," local newspaper Schwaebisches Tagblatt noted. "We were able to pull the victim out with our bare hands after about 30 minutes," Mozer added. The six-foot replica of female genitalia was installed 13 years ago outside the microbiology and virology department of the city's university clinic. It is worth nearly $200,000.

Dude, what were you thinking? Never mind. I don't even want to know.
Student gets stuck inside giant stone vagina