Police have raised over $100,000 in donations for victim's family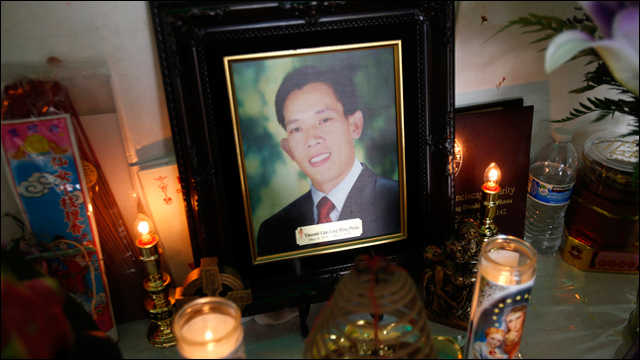 In San Jose, police have arrested two suspects in connection with the
road rage killing
of 37-year-old family man Phuoc Hong Long Lam, who was fatally shot on the side of the road last month.
San Jose: Arrests made in notorious road-rage shooting that killed father of young sons
17-year-old Fidadelfo Silva Ortiz and 23-year-old Daniel Alejandro Reyes were arrested in California's Central Valley last month in connection with Lam's murder. It's not clear which suspect fired at Lam, but both were inside the car during the incident, which was sparked by a near-collision:
Lam was killed that morning while driving on Senter Road near Tully Road, he swerved to avoid a car that pulled into his path. Both cars pulled over to the side of the road, and Lam and his wife got of their vehicle. Without warning, a passenger in the other car drew a gun and shot Lam, according to police.

The shooter's car sped away. Lam died at the hospital that evening.

There weren't a lot of initial leads to the suspects' vehicle, but investigators canvassed the area, culling witness accounts and gathering surveillance video in the area -- the intersection of Tully and Senter is among the city's busiest -- to come up with a license plate number and description of a silver Volkswagen Jetta.

Homicide detectives used those details as a springboard and grew to suspect Reyes, whom they arrested May 19 in Tracy. They traveled to Oakdale, between Modesto and Yosemite National Park, to arrest Ortiz. Police did not announce which of the suspects fired at Lam, but contend both were inside the car involved in the episode.

Lam's death drew international attention when SJPD Officer Huan Nguyen launched an online
fundraising campaign
in support of the grieving family. The campaign has raised over $100,000 and has become the most successful police-initiated victim fund in the San Jose Police Department's history.
More here:
San Jose Police Arrest Two Men Connected to May Road Rage Killing