"The Freak" no-hits the San Diego Padres. Again.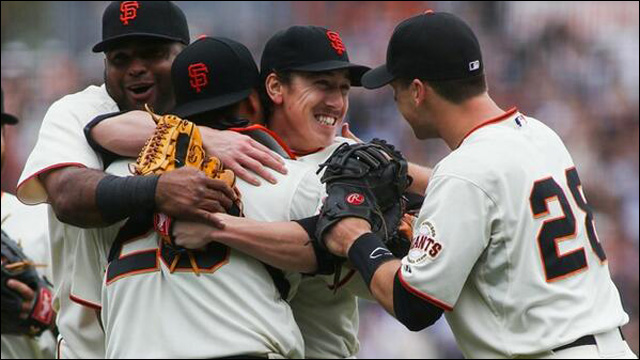 Awwwww yeah. As a lifelong fan of the San Francisco Giants, I gotta show some love for pitcher Tim Lincecum, who threw a no-hitter today against the San Diego Padres. Again. Stay classy, San Diego.
Tim Lincecum tosses second no-hitter against Padres
In his second career no-hitter in less than a year -- only the 16th in franchise history -- the 30-year-old veteran held the Padres to just a walk and struck out six, leading the Giants to a 4-0 victory at AT&T Park.
Lincecum becomes just the second major league pitcher, and the first in more than a hundred years, to no-hit the same team twice in his career. He's also the just the fourth active pitcher with multiple no-hitters.
While he's had his share of struggles, Lincecum dominated the Padres -- granted, the weakest-hitting team in the majors -- with 113 pitches. for the superfan, here's a video supercut of all 27 outs:
If you want the short version, here's the final out:
And here's the requisite Gatorade shower:
Good stuff. Congratulations, Timmy.
More here:
Giant feat repeat! Lincecum again no-hits Padres