Lured from Indonesia, victims seek damages for years of exploitation and abuse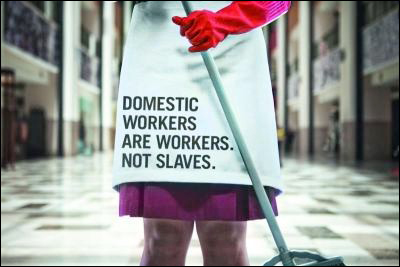 This week in Los Angeles, three Indonesian women filed a lawsuit alleging that a wealthy businessman and his family fraudulently lured them to the United States to serve as domestic workers and then essentially held them for years as slaves, subjecting them to unlawful and inhumane working conditions and abuse.
Arrested for Human Trafficking, Wealthy Local Couple Sued for Holding Three Domestic Workers as Modern-Day Slaves
The lawsuit, filed in Los Angeles Superior Court, alleges that businessman Hendra Anwar and his wife Astati Halim forced the victims to perform grueling manual labor, denied them fair compensation, withheld their passports and used threats and other psychological abuse to prevent the women from escaping.
The lawsuit alleges that Hendra Anwar, a wealthy businessman, and his wife Astati Halim, lured the victims here from Indonesia with promises of good wages and working conditions for their service as caregivers and nannies. Once the workers arrived in Los Angeles, they faced a dramatically different reality. The couple forced the three women, all with physical disabilities, to perform grueling manual labor. The women were kept at the family's beck and call, required to work 14 hours a day, seven days a week.

Anwar and Halim confiscated the victims' passports, denied them their promised wages and scared them into believing they would be kidnapped or thrown in jail if they contacted the police or strangers. When the victims pleaded to return to Indonesia, the couple refused, claiming they were under contract for several more years of service. When one of the women managed to escape, Anwar, Halim, and their agents intimidated her friends and family in the U.S. and Indonesia.

One victim was able to escape and contact authorities. Halim and Anwar pled guilty in federal court to fraud in procuring the victims' visas to the U.S. and violations of the Fair Labor Standards Act. They were sentenced to five years of probation and ordered to pay restitution. Earlier this month, he Los Angeles Police Department arrested the couple on three criminal charges of human trafficking.
The lawsuit, filed by attorneys from the law firm Jones Day, Bet Tzedek Legal Services, Asian Americans Advancing Justice - Los Angeles, and the Coalition to Abolish Slavery & Trafficking (CAST), seeks to recover civil damages for the victims under California's anti-trafficking statute, as well as under the California labor code and other state laws.
Based in Los Angeles,
CAST
is the largest social service agency in the United States providing direct services exclusively to survivors of human trafficking. Learn more at
castla.org
. For immediate help, victims can call CAST's emergency hotline at 888-KEY-2FRE(EDOM), 888-539-2373.