Dr. Murthy is the first-ever U.S. Surgeon General of Indian descent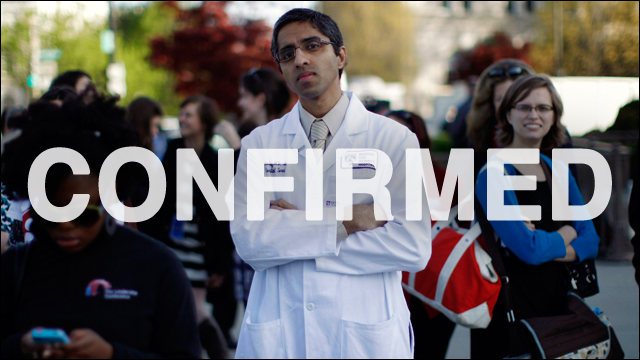 Finally, we have a surgeon general. On Monday, the Senate voted to confirm Dr. Vivek Murthy as the new Surgeon General of the United States -- more than a year after President Obama nominated him to the post.
The U.S. Has A Surgeon General, For The First Time In 17 Months
The job has been open for a while. Dr. Murthy was nominated back in November 2013, but his confirmation was stalled by partisan opposition, fueled by the gun lobby, particularly over his views criticizing gun violence. But with Congress now in a lame-duck session, Dr. Murthy's confirmation finally got the support it needed from more Democrats, with Monday's vote tally coming in at 51-43.
At 37 years old, Dr. Murthy is the youngest-ever surgeon general in the United States. He is also the first Indian American to serve as America's top doctor.
Congratulations to Vivek Hallegere Murthy, MD, MBA, the 19th #SurgeonGeneral of the U.S.!

— U.S. Surgeon General (@Surgeon_General) December 15, 2014
Here's President Obama's statement on Dr. Murthy's confirmation:
I applaud the Senate for confirming Vivek Murthy to be our country's next Surgeon General. As 'America's Doctor,' Vivek will hit the ground running to make sure every American has the information they need to keep themselves and their families safe. He'll bring his lifetime of experience promoting public health to bear on priorities ranging from stopping new diseases to helping our kids grow up healthy and strong. Vivek will also help us build on the progress we've made combatting Ebola, both in our country and at its source. Combined with the crucial support for fighting Ebola included in the bill to fund our government next year, Vivek's confirmation makes us better positioned to save lives around the world and protect the American people here at home.

Congratulations, Dr. Murthy.
More here:
Senate confirms new surgeon general