'Saturday Night Live' spoofs Maywather/Pacquiao fight... with Aidy Brant as Manny.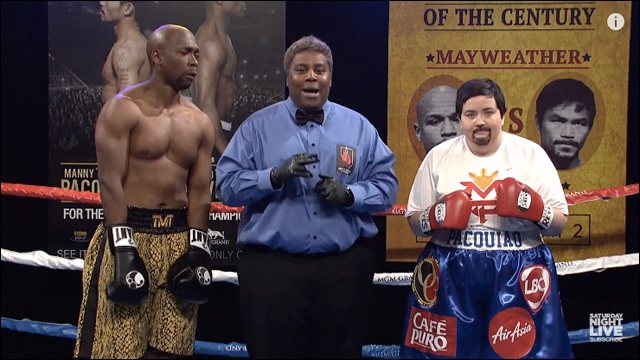 By now, if you're like me, you're probably pretty damn tired of
Saturday Night Live
and its broke-ass track record of diversity. The television sketch comedy institution hasn't had an identifiably Asian American cast member in its entire forty-year history, and every time a sketch calls for an Asian character, it usually devolves into an awkward situation involving a white actor rocking a bad accent. The latest example...
In this past Saturday's show,
SNL
opened with a
spoof
on the night's real main attraction, offering a "bootleg" feed of the much-hyped fight between Floyd Mayweather, played by Jay Pharoah, and Manny Pacquiao, played by.... Aidy Bryant? Damn. They're not even trying. Need someone to play a Filipino professional boxer? Eh, might as well just go with a white woman with a fake goatee and a t-shirt. As a matter of fact...
According to the scrolling disclaimer, "Because this is a pirated broadcast of the fight, some of the visuals may appear distorted. For example... Manny Pacquiao may appear to be a white woman with a fake goatee and a t-shirt." Like I said, not even trying.
Could this be laziest sketch
Saturday Night Live
has ever produced?
Turns out, this was not too far off from what transpired in the actual fight. Zzzzzz.