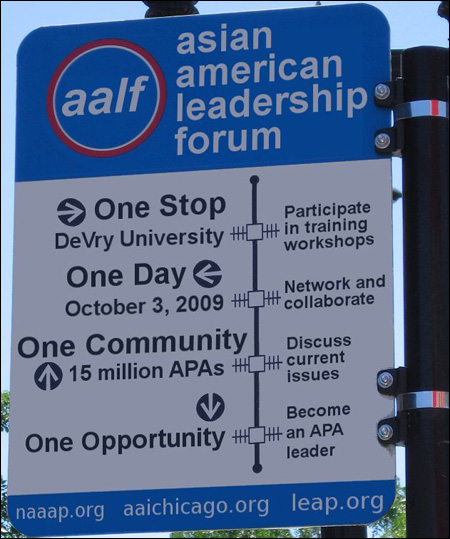 This is for all my friends in Chicago... The
Asian American Institute
, LEAP, and NAAAP Chicago invite you to the Asian American Leadership Forum, a one-day conference for college student organizations, professionals and community groups happening this Saturday, October 3 at DeVry University. Here some details:
2009 Asian American Leadership Forum

Saturday, October 3, 2009
8:00am - 7:00pm
DeVry University
3300 N Campbell Ave
Chicago, IL

AAI, LEAP, and NAAAP Chicago proudly invites you to attend the 2009 Asian American Leadership Forum (AALF).

Below are workshops designed to bring out the leader within, educate you on the challedges going on in our communities, and help you prepare for the future:

Leveraging Social Media for Your Community, Career, and Company
Yes, Illinois, We Can Elect an Asian American
Immigration Matters: Paving the Way for Comprehensive Immigration Reform
From Crisis to Opportunity: Accessing Federal Recovery Act Resources
21st Century Leader
Overcoming Advancement Barriers (for Asian Women)
Change Management
Managing Your Personal Brand
Discovering our History: Asian Pacific American 101
Taking a Stand: Responding to Anti-Asian Hate Incidents
It's an all-day conference, with breakfast, lunch and dinner provided. And it's just $15/20 for students. Think of it as an opportunity to develop and refine your leadership skills, and share/learn what's going on in the Asian American community. For more information, and to register, go to the NAAAP Chicago website
here
.