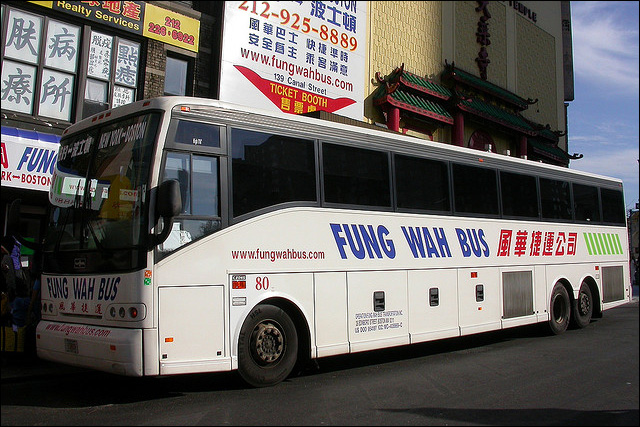 Boom. This week, in a big blow to travelers of the cheap, federal officials ordered the Fung Wah bus company off the road:
Discount Bus Company Fung Wah Suspended After Failing Safety Inspections
.
The Boston-based discount bus company, known for its cheap tickets to and from major cities in the Northeast (Boston to New York City, just 15 bucks!), has been shut down by the Transportation Department for failing multiple state and federal safety inspections:
On one bus, inspectors found multiple oil leaks from different parts of the engine, and nuts and bolts that weren't secure.

There were also faulty lights, a door with a broken latch and the lack of proper registration on the charter bus hired by Fung Wah.

But consider this one of the "good" buses. Fung Wah will have 15 days to report back to the state that those problems have been fixed. It didn't get immediately pulled off the road.

The I-Team learned that's what's been happening to Fung Wah buses brought to a facility in Roxbury for inspection.

During one visit, they were inspecting the buses for hours and five were in such disrepair they had to be towed.

Three of those buses had cracked frames. Inspectors found they had been re-welded and the work wasn't done properly.

Another had defective airbags.

More here:
I-Team: State Calls Fung Wah Bus Lines An "Imminent Hazard."
I guess you get what you pay for. But don't worry. A shutdown is but a minor inconvenience to Fung Wah. They've found a way around the federal order by contracting outside charter buses to transport passengers. Crafty:
Fung Wah Using Charter Buses To Get Around Federal Shutdown Order
.