Spanish Grand Prix motorcycle racer lets his racist t-shirt do the talking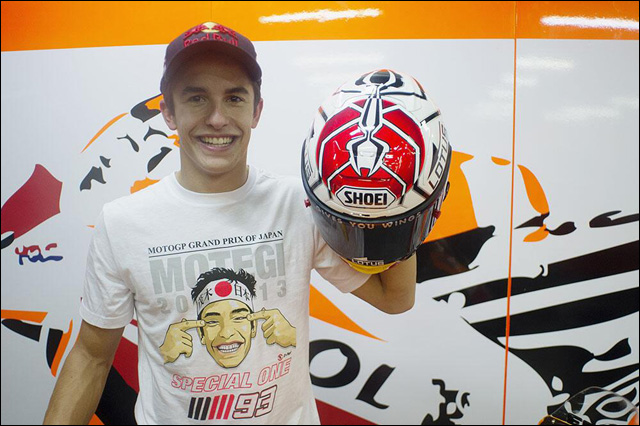 I do not follow the world of Grand Prix motorcycle racing, so I was unfamiliar with Mr. Marc Marquez until about half an hour ago. But the dude automatically gets on my shit list for wear
this racist-ass t-shirt
.
Seriously, people really love doing the chink-eye. Remember
these guys
?
Marquez, a Spanish Grand Prix motorcycle champ,
tweeted this photo
earlier in the day to his Twitter followers (in Spanish): "Special helmet and shirt for a special GP in Japan, at home!!! ;) Do you like?"
Casco y camiseta especial para un GP especial en Japón, en casa!!! ;) ¿Os gusta? @HondaPowersprts pic.twitter.com/SWqbv05el9

— Marc Márquez (@marcmarquez93) October 25, 2013
No, man. No nos gusta.
The shirt is apparently a custom design for this weekend's Japanese Grand Prix, where he is reportedly a strong favorite to win the MotoGP title. And completely oblivious to the fact that the shirt makes him look like an ass.
More here:
Marquez, We Have To Talk – You're Getting Horrible Advice
.
(Thanks, Richard.)
UPDATE: And here is Marc Marquez's run-of-the-mill, sorry-if-you-were-offended non-apology:
My special helmet was designed to be a symbol of thanks to all my Japanese colleagues & fans so I am very sorry if it caused any offence 🇯🇵

— Marc Márquez (@marcmarquez93) October 27, 2013
If that was supposed to be a "symbol of thanks," I'd hate to see what he thinks racial mocking looks like.