Part of the Amazing Heroes Wave 1.5 Retro Super Hero Action Figures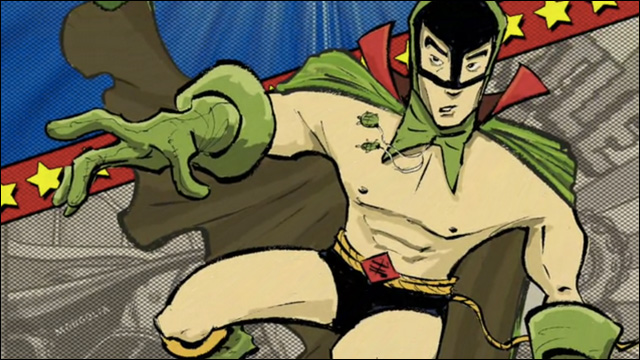 Fellow action figure nerds! If you are a fan of Gene Luen Yang and Sonny Liew's magnificent graphic novel
The Shadow Hero
, and you even shelled out some cash for an
Amazing Heroes Green Turtle action figure
, aaaaand you're an obsessive collector like me, you might be interested in the
Amazing Heroes Wave 1.5 Retro Super Hero Action Figures
, now winding down its fundraising campaign on Kickstarter.
Amazing Heroes is a 4.5" retro inspired Vintage Superhero Action Figure line that is reminiscent of the action figures from the '80s that feature colorful and iconic classic heroes. So what makes Wave 1.5 different from the first Kickstarter round? This wave of figures, including the Green Turtle, include Artist Edition cards featuring original art commissioned exclusively for the Amazing Heroes line.
Here's a video with more information:
Here's a preview of the Green Turtle packaging, with art by Gene Yang and Sonny Liew: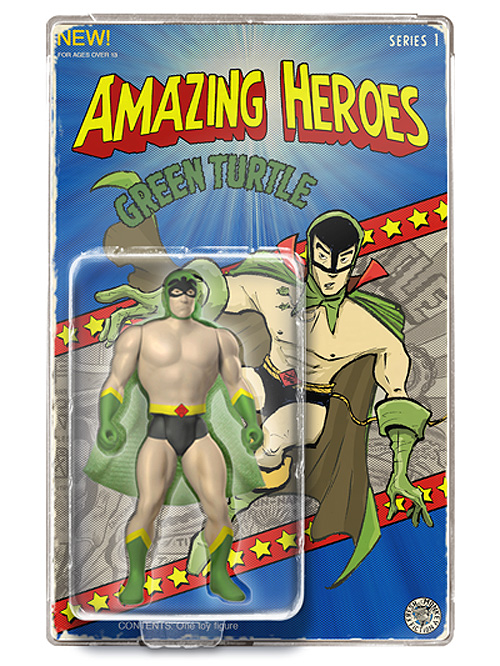 The figures are also available in a limited amount of individually numbered Kickstarter Exclusive Signed Artist Editions, offered individually or as the full set of eight figures. Geek out with me, won't you?
As I write they're just a hair under two thousand dollars shy of their $15,000 Kickstarter goal, with the deadline just a few days away -- this Sunday, December 21. For further information about the Amazing Heroes Wave 1.5 Retro Super Hero Action Figures, or to make a pledge, head over to the project's
Kickstarter
.