Not necessarily the angriest, just the most viewed.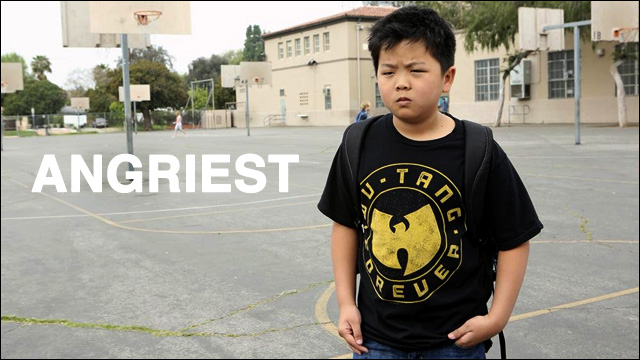 1.
Chinese People Try Panda Express For The First Time
Taste testers of Chinese descent sample greatest hits from the fast food chain's menu.
2.
Students hurl racist chants at high school basketball game
Classy fans at Esperanza High yelled "Jackie Chan" and "shrimp fried rice" at Reed Nakikihara.
3.
An Open Letter to Asian American TV Watchers
'Fresh On The Air' by Jeff Yang and Louie Chin
4.
Jenny Yang's Smartass Answers for Your Dumbass Questions
"Actually, I'm not that good at math."
5.
'Fresh Off The Boat' Episode Guide (101-105)
New Asian American family sitcom premieres Wednesday, February 4 on ABC
6.
Angry Asian America Ep. 12: Fresh Off The Boat Premieres!
With co-host Jenny Yang and special guests Constance Wu, Hudson Yang, Forrest Wheeler and Ian Chen
7.
This Portrait of Bobby Jindal is the Whitest Thing Ever
Louisiana governor's goofy pale portrait invites internet mockery.
8.
Throwback Thursday: That time Randall Park was a rapper.
The star of ABC's 'Fresh Off The Boat' use to moonlight as an emcee for Ill Again.
9.
George Takei to star in 'Allegiance' on Broadway
Musical tells the story of Japanese Americans in internment camps during World War II
10.
Ann Arbor restaurant robbed second time in six months
The owners of Mary's Fabulous Chicken & Fish were robbed Wednesday night at knifepoint.
Stay Angry, my friends.