37 members of Pi Delta Psi will face a range criminal charge in the 2013 death of Michael Deng.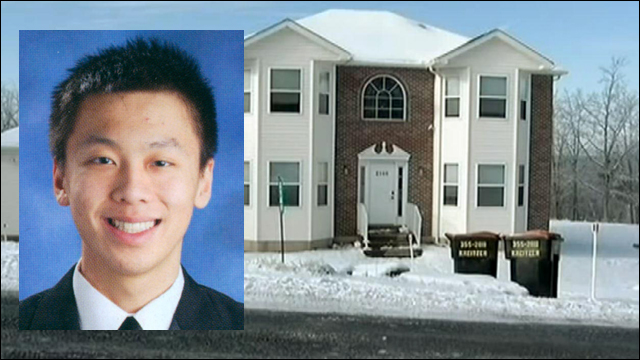 In Pennsylvania, five fraternity members from Baruch College in New York City will face murder charges for their involvement in the death of a freshman during a hazing ritual at a rural retreat in 2013.
5 From Baruch College Face Murder Charges in 2013 Fraternity Hazing
A grand jury recommend that five members of Pi Delta Psi face a range of charges, including third-degree murder, in the death of 19-year-old Chun Hsien "Michael" Deng. A total of 37 members would face a range of criminal charges, including assault, hindering apprehension and hazing in connection with Deng's death.
Deng suffered severe brain trauma while being forced to play a game called "glass ceiling" in an apparent
pledge ritual gone wrong
during a weekend fraternity retreat to the Poconos in December 2013. To make matters worse, the fraternity members didn't call 911 after Deng was knocked unconscious, and waited hours before someone drove him the hospital.
The authorities said Mr. Deng, 19, known as Michael, died on Dec. 9, 2013, after he was blindfolded and made to wear a backpack weighted with sand while trying to make his way across a frozen yard as members of the fraternity, Pi Delta Psi, tried to tackle him. During at least one tackle, he was lifted up and dropped on the ground in a move known as spearing, according to the Pocono Mountain Regional Police Department. He complained his head hurt but continued participating and was eventually knocked out, the police said in a news release.

After Mr. Deng was knocked unconscious, the authorities said the fraternity members delayed in seeking medical help.

Instead of getting help, these dumbass members of Pi Delta Psi were doing Google searches to diagnose his symptoms, before finally putting him in a car and driving to a hospital a half-hour away. Forensic analysis determined the delay in treatment "significantly contributed to the death of Mr. Deng" and resulted in neurogenic shock. His death was
ruled a homicide
.
I'm sure all these guys pledged some kind of oath of loyalty to their fraternity when they joined up. I just wonder how far that loyalty extends, and if the bonds of this kind of "brotherhood" cover murder charges.
More here:
Five New York fraternity brothers charged in connection with hazing death
FACEBOOK