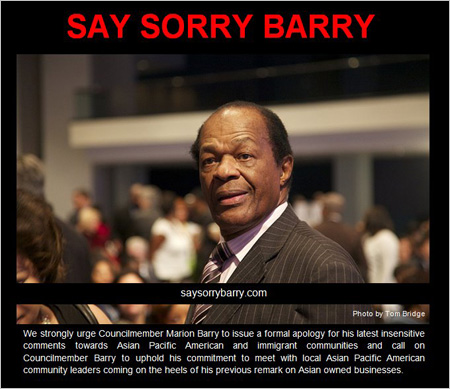 So get this. Tomorrow, D.C. Councilmember Marion Barry will join a coalition of Asian American advocacy groups, the
Say Sorry Barry
campaign, at a press conference to address derogatory comments he recently made about
Asian businesses
and
Filipino nurses
. For real?
Councilman Barry will be joined by David Chung, a commissioner in the D.C. Office of Asian and Pacific Islander Affairs. So is he going to apologize? Is he actually going to say sorry? I guess we'll find out tomorrow. Here are some more details about the press conference:
Will Barry Say Sorry?
Barry to hold press conference Thursday, May 24.

Councilman Barry will join the "Say Sorry Barry" campaign and other D.C. Asian American advocates for a press conference to address his comments targeting Asian American businesses owners and Filipino nurses. Join us at the event to hear him discuss new partnerships to improve all members of the Ward 8 community.

Who: Marion Barry, DC City Council
David Chung, OAPI Commissioner and local business owner

When: Thursday, May 24, 12-12:30PM

Where: Matthews Memorial Baptist Church
2616 Martin Luther King Jr. Ave, SE
Nearest Metro: Anacostia (Green Line)
I don't know what's actually going to happen tomorrow, but if the counciman does indeed apologize, perhaps his change of heart has something to do with his
recent medical scare
, during which he was treated by Filipino hospital staff. Irony bomb.
Say Sorry Barry
will be live tweeting and posting updates during the press conference. Follow
#saysorrybarry
and the campaign's
Facebook page
for further information.
UPDATE: Councilmember Marion Barry did indeed issue an apology for the remarks he made last month targeting Asian businesses and Filipino nurses. Here's the press release about Thursday's meeting:
COUNCILMAN BARRY APOLOGIZES FOR ANTI-ASIAN COMMENTS, A CRUCIAL FIRST STEP

Washington, D.C. - Today, in a joint press conference with a coalition of Asian American advocates, Councilmember Marion Barry apologized for remarks he made in April targeting Asian owned carry out restaurants in Ward 8 and Filipino nurses. Speakers also discussed key steps for working with Asian American advocates to benefit all Ward 8 community members.

On April 3rd, Councilman Barry said, "We got to do something about these Asians coming in and opening up businesses and dirty shops." And on April 23rd, he targeted Filipino nurses saying, "In fact, it's so bad, that if you go to the hospital now, you find a number of immigrants who are nurses, particularly from the Philippines."

"While we are glad for the apology, this was never solely about an apology," said Olivia Chow, a campaign organizer with Asian Pacific Americans for Progress. "This was about restoring mutual respect as a basis for working together and moving forward to lift up all Ward 8 residents. A public official can't be allowed to get away with using words that divide us when their role as a leader is to unite us."

In a private meeting with coalition representatives last Friday, May 18th, Councilman Barry offered a genuine apology and offered to clear up any misunderstandings by agreeing to participate in today's press conference.

Today, Councilman Barry said, "I've been enlightened by this dialogue" and added, "We want Ward 8 to be a model of diversity and inclusiveness."

David Chung, a local business owner and member of the Office of Asian Pacific Islander Affairs Commission at the press conference said, "On behalf of all of the hard working Filipino nurses, small Asian business owners in Ward 8 and the Asian American community in general, I would like to thank Mr. Barry for his apology today; especially given that it is during this month, the month of May that Asian Americans celebrate Asian Pacific Heritage month."

"It takes courage" Chung said, "to grapple with issues that implicate changing demographics, economic development, and leadership - all of which came into play in the events that led up to this moment. Our focus should be on what we all will do tomorrow so we don't forget about today."

Organizers are moving forward with scheduling regular meetings the Councilman to examine policies that benefit Ward 8 business owners. These policies include improving the DC Restaurant Association's process for inspecting and evaluating businesses in the primary language used by the owner. Councilman Barry also hopes to model the H Street economic development initiatives to rehabilitate dilapidated businesses in Ward 8.

This campaign brought together over thirty local and national Asian American advocacy groups, and over 700 community members who signed the "Say Sorry Barry" petition. The petition by the DC Asian Pacific Americans for Progress first launched after Councilman Barry's remarks about Filipino nurses.

Over the last several weeks, supporters of the campaign include Many Languages One Voice, the Asian American Pacific Islander Caucus of the DC Democratic Party, the Asian Pacific American Bar Association - DC, the Asian Pacific American Labor Alliance, and Asian American LEAD.
Considering who the apology is coming from, forgive me if I have a hard time getting excited over this development. Saying sorry is one thing; it's what happens afterwards that really matters. And dude, the man just cannot stop putting his foot in his mouth:
Barry offends Polish-Americans while apologizing to Asian-Americans
.