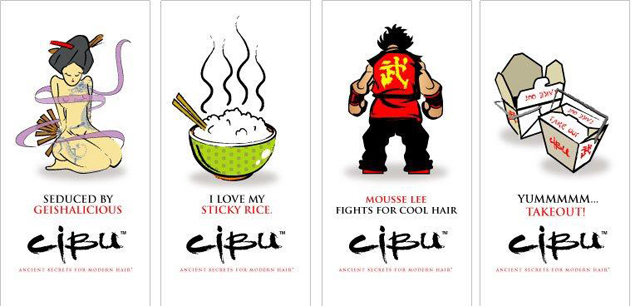 Have you heard of Cibu? They make beauty products. Unfortunately, their whole brand identity revolves around ridiculous Orientalist schtick, invoking tired old Asian imagery hacky stereotypical wordplay. This isn't anything new -- brands have been doing this for years. But in Cibu's case, they've gone way off the deep end.
For instance: Miso Knotty Detangler. Geishalicious Shampoo. Take Out Clarifying Shampoo. Shang High Mousse. Spring Roll Hydrating Cleanser. Ancient Veil Oil Mist. Hi-Ya! Keratin Reconstructive Conditioner. Washabi 3-in-1 Conditioning Shampoo. Dry Kwon Do Dry Shampoo. Pho Freeze Firm Hold Hairspray. I swear, I didn't make any of these names up -- they're all real products.
Here's an online petition calling on Cibu International and its parent company to reconsider and re-brand its line:
Cibu International / Ratner Companies (Hair Cuttery, Bubbles, Salon Cielo): Stop using offensive and racist names for your beauty products
.